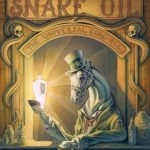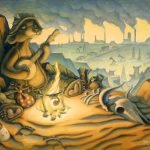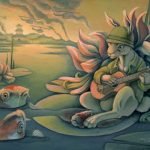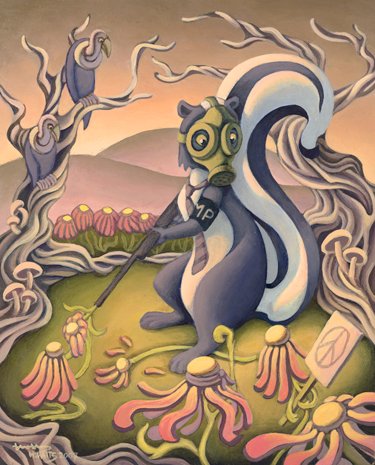 The End is Near
2007, M Modern Gallery, Las Vegas
It may be that we are doomed, that there is no hope for us, any of us, but if that is so then let us set up a last agonizing, bloodcurdling howl, a screech of defiance, a war whoop! Away with lamentation!  Away with elegies and dirges!… Let us living ones dance about the rim of the crater, a last expiring dance.  But a dance!"
– Henry Miller, Tropic of Cancer
The End is Near was my first gallery solo show of pop surrealism-influenced narrative painting. It featured a cast of storybook-style anthropomorphic characters symbolizing various incarnations of "The End" inspired by current events, history, politics and the natural world.
Small run limited edition prints of some works in this series are available by special request. Please email inquiries to info@heatherwatts.com.

Artist Statement
Creating a painting is, for me, similar to assembling a jigsaw puzzle.  I piece together images, words and colors, working on the faith that eventually the chaos in front of me will come to resemble the picture I have in my head.
What has always seemed strange to me is the fact that I do not actually create the puzzle pieces themselves.  Like a collagist clipping pictures from old magazines, I go out into the world and cut these 'found ideas' from the pages of collective memory.  My real work as an artist is to bring these ideas home and make them speak, arrange them in a way that communicates, through a single image, my own unique experience of that memory.
I hope that, in each of these paintings, you will catch a glimpse of something familiar–a handful of "puzzle pieces" you've come across before, a joining of ideas that resonates with something in your own experience. For each piece I have written a few words which I hope will, like this statement, enrich your enjoyment of the work.  
Heather Watts
May, 2007
M Modern Gallery, Las Vegas